Searching for the top CRM for logistics and transport? This article guides you to the ideal logistics CRM for your business needs.
Running a logistics and transport company is more than maintaining a warehouse and shipping boxes. The logistics industry is cutthroat, and the market value projection is $12,975.64 billion by 2027. To make a mark, you need the following processes covered.
Strong internal and external coordination

Precise document management and storage

Sales transparency and team collaboration 

A pipeline strategy for consistent lead generation

Automated customer management and service 
It's clear that working on multiple orders simultaneously, onboarding new customers, and maintaining close relationships with your existing clientele is a tricky blend. For that, you need efficient CRM software that seamlessly fits your requirements and supports your vision. 
But in a sea of tools to choose from, how do you choose the best CRM for you? 
Here, we've compiled a list of the best logistics sales tools to amp up your profits in no time. 
Why CRM Software Matters for Logistics and Transport Companies
These industries are prone to challenges like inconsistent leads, inaccurate sales forecasting, lack of differentiation, etc. To counter these roadblocks, absolute transparency between the stakeholders, sales team, and supply chain is of the essence. 
Maintaining efficiency as it is, is a nightmare, let alone when you plan to scale. So, to get ahead, you need tools to build a sales funnel while figuring out routes, dispatching orders, and tracking transport. Here is how sales CRM software can benefit your business: 
Facilitates cross-team communication across all departments. 

Improves task delegations and enables you to view project status in real time. 

Simplifies onboarding while maintaining consistency with long-term clients. 

Offers

integrations to boost ROI

– mostly with tools you already know and trust. 

Automates tedious tasks like repetitive orders, payment confirmations, tracking links, etc., and helps you focus on customer service. Everything in one place. 

Centralizes data, fostering better management of shipping schedules.

Segments priority shipments and notifies the team of unforeseen delays. 
Now let's look at top CRM comparisons:
1. Pipeline CRM: Best CRM for Sales-Focused Logistics Companies
Pipeline provides a customer-centric sales solution unlike any other alternative.
As one of the best CRM for logistics and transportation, this platform keeps your teams on the same page, manages client details, and tracks deal progress. Besides managing freight, it discovers patterns, qualifies leads, and ensures top-notch customer service. 
Features: 
Custom deal stages to fit the unique needs of the logistics industry. 

Open source APIS for seamless integrations. 

Automates repeat orders, payment details, cargo tracking, etc. 

Manages and examines drip email campaigns. 

Maps and records the bid's progress. 

Offers accurate sales forecasting.
Pros:
Easy to set up, capable of fully functioning within 48 hours. 

Intuitive for beginners and experts alike.

Extensive automation for better sales management. 

Integrates with popular platforms, with Google apps, Outlook, Zapier, Mailchimp, and other popular logistics sales tools.

Capable of managing communication between both small and large teams. 

Monitors historical data and examines the cause of lost bids. 

Best-in-class customer support.
Reviews:
Pricing:
Start plan:

$25 per user per month.

Develop plan:

$33 per user per month.

Grow plan:

$49 per user per month.
2. BlueYonder: Best CRM for Customer-Driven Supply Chain
Next up on our list is BlueYonder, a CRM platform ready to give your customers a superior logistics experience. This nifty software offers click-to-deliver/collect services, unifies inventories, and manages orders, ensuring timely and accurate delivery. 
With end-to-end visibility, BlueYonder empowers you to make better business decisions, take actions at scale, and offer exceptional customer service. 
Features:
Offers transportation management, warehouse management, and order management. 

Detects underutilized loads and resources. 

Identifies risks and opportunities by monitoring historical data. 

Digitally connects small and large organizations across your entire supply chain.

Offers effective modeling. 

Quantifies transportation savings and prioritizes your implementation rollout.
Pros:
Easy to use and offers high flexibility. 

Custom CRM software suitable for the unique business needs of this market.

Low entry barrier for advanced configuration. 

Extensive integrations make it easy to fit the software into existing systems. 

Effective modeling helps manage your carbon footprint. 
Cons:
Bug issues.

Limited support for labor planning and cost management.
Reviews:
Pricing:
Pricing of BlueYonder is available on request. 
3. Tailwind TMS: Best CRM for Small and Mid-Sized Trucking Companies
Want to grow your budding trucking company into a full-fledged business? Tailwind TMS is one of the best over-the-road transportation management systems you can find. 
Designed to service motor carriers, freight brokers, and companies that do both, this CRM for logistics automates data entry, centralizes your paperwork, and prepares and sends invoices instantly to the customers. From managing customer databases to routing and scheduling, this popular software takes care of the everyday challenges of a trucking company with proper insights and efficiency. 
Features: 
Accounts receivable and payable management.

GPS confirmed shipment, event, and equipment maintenance tracking.

Extensive integrations.

Self-service portals for both carriers and customers. 

Text messaging and task and alert notification system. 

Locations and route management. 
Pros:
GPS-conformed shipment helps in timely delivery. 

Efficient API makes it easily adaptable to existing systems. 

Self-service portals enhance user experience. 

Proper route management avoids risks and finds the best possible routes for your shipments. 
Cons:
Poor transaction history. 

Not fit for heavy operations. 
Reviews:
5.0 star rating

on G2 (1 review).

4.3 star rating

on Capterra (93 reviews).
Pricing:
TMS Pro:

$99 per user per month. 

TMS Enterprise:

$149 per user per month. 

TMS Unlimited:

$199 per user per month.
4. LogiNext Mile: Best CRM for Routing and Scheduling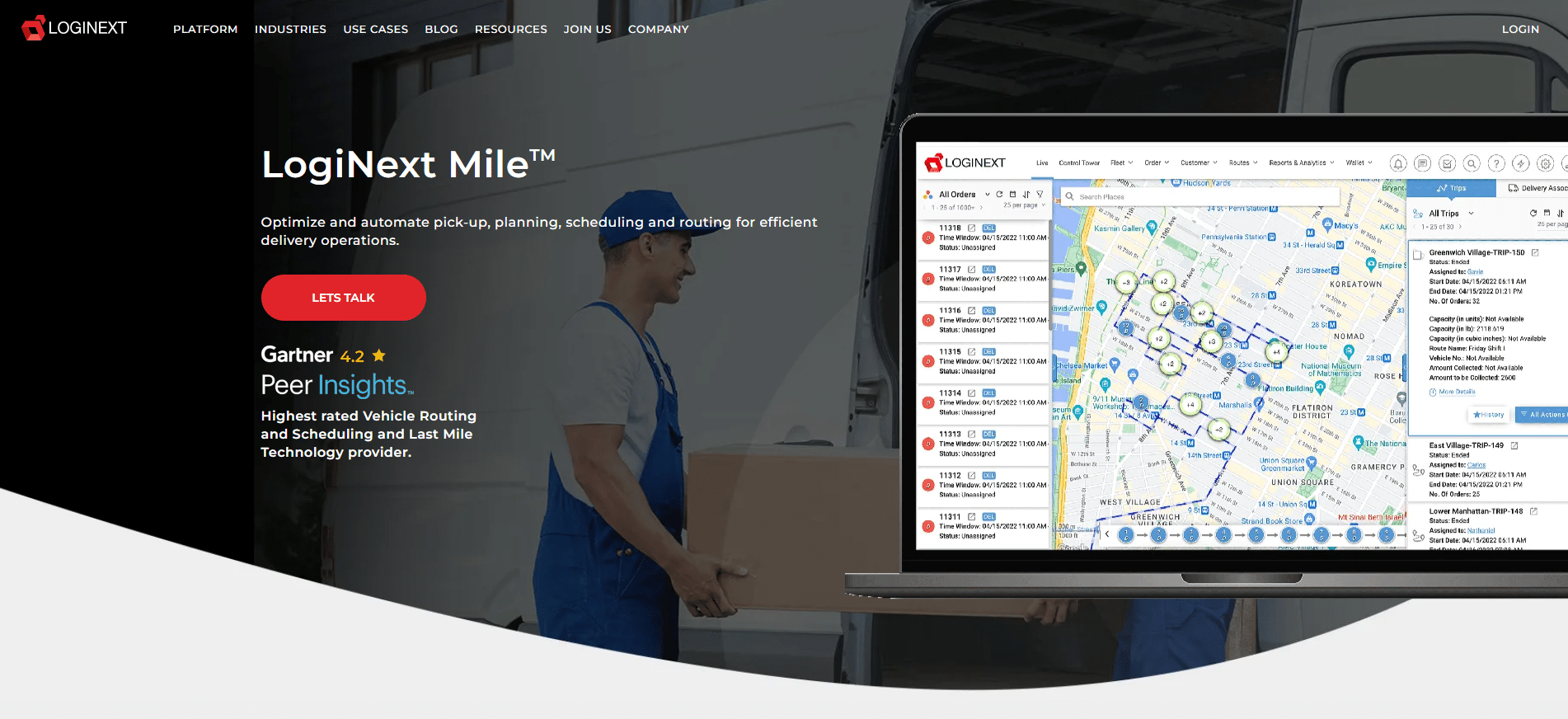 If you struggle with scheduling multiple orders and figuring out the best route for your cargo, LogiNext Mile is the best sales pipeline CRM. 
This logistic software optimizes and automates operations like shipment planning, scheduling, pickup, and routing, bringing end-to-end efficiency to your delivery operations. 
Features: 
Easy to use interface.

Automates routing and scheduling. 

In-built logistics analytics dashboard. 

Examines resource capacity for proper optimization.

Sends timely alerts and notifications. 
Pros:
Offers deep historical analysis and identifies areas of improvement.

Predicts delivery ETA even before the order is placed. 

Centralized data allows you to compare trends visually. 
Cons:
RTO and middle mile features are underwhelming. 

UX needs improvements. 
Reviews:
Pricing:
Custom quotes are available on request.
5. Sage CRM: Best CRM for an Integrated Ecosystem
From sales to warehouse management, Sage CRM offers one of the best stacks of logistics sales tools in the industry. This custom CRM software offers sales, marketing, and customer service modules for you to choose from. You can yield benefits from the holistic features to enhance every operation in your supply chain.
Features: 
Time and expense tracking.

Customized dashboard. 

Identifies marketing opportunities.

Analyzes specific customer information and creates targeted and personalized email campaigns.

Calculates

lead to opportunity ratio.

360-degree view of the customer lifecycle.
Pros:
Accurate calculation of lead to opportunity ratio simplifies the sales process. 

Creates relevant cross-selling and upselling opportunities. 

Facilitates effective team collaborations. 

Navigation is comparatively challenging. 
Cons:
The user interface is outdated.

Very limited third-party integrations.
Reviews:
Pricing:
Sage CRM (Cloud): $45 per user per month. 

Sage CRM (On Premise): available on request.
Conclusion
Modern businesses maintain profits only when they prioritize customer service — and the logistics and transport industry is no exception. 
To keep your efforts aligned across departments and teams, you need a CRM that tracks transportation, supplements your sales cycle, and organizes all your contacts in the supply chain. 
That's where Pipeline CRM can help you. It offers: 
Centralized dashboards for better visibility.

Conversation history tracking to detect issues.

Automation for better productivity. 
The platform also offers CRM features for remote sales teams and fosters seamless collaboration, no matter where your staff is. 
To win over new clients, manage orders, and double your revenue, start your 14-day free trial today!