According to Grand View Research, the global real estate market reached a whopping 3.69 trillion in 2021, with an expected growth rate of 5.2% between 2021 and 2030.
With times blossoming up ahead, this is the perfect time to take your real estate agency to the next level. First, to stand out in the crowd and attract more prospects, you need:
Efficient and detailed property listings 

Accurate data entry and lead management

Professional transaction management

Precise analytics and real-time insights 

Stellar customer service and management  
You and your team need to be experts in handling different clients and their needs simultaneously. But as your agency grows, multitasking won't compensate for the inaccuracies of manual processing. It only makes sense to consider a scalable solution.
We've seen first-hand that sales CRM software can help convert leads into a sales pipeline, elevate customer service, and help you close back-to-back contacts quickly. 
So, in today's article, we'll look at CRM comparisons for real estate.
Why CRM Software Is Essential for Real Estate Agencies
Running a real estate agency involves large volumes of data entry and management. 
To understand your clientele and maintain proper listings, you'll require a digital lead acquisition and nurturing strategy. Moreover, you need this to stay ahead of your competition.
Manual efforts won't suffice in handling these aspects. That's where an efficient CRM platform can help you. It offers analytics, automation, and tools to build a sales funnel.
With a scalable CRM for real estate, you can:
Qualify and segment leads better with data-driven insights.

Respond to and resolve client inquiries quicker.

Maintain a centralized client database in one hub.

Stay in touch with high-value clients through automated emails.

Streamline repetitive tasks like drafting contracts, data entry, and email marketing.
Next, let's look at top CRM comparisons:
1. Pipeline CRM: Best CRM for Sales-Focused Real Estate Agents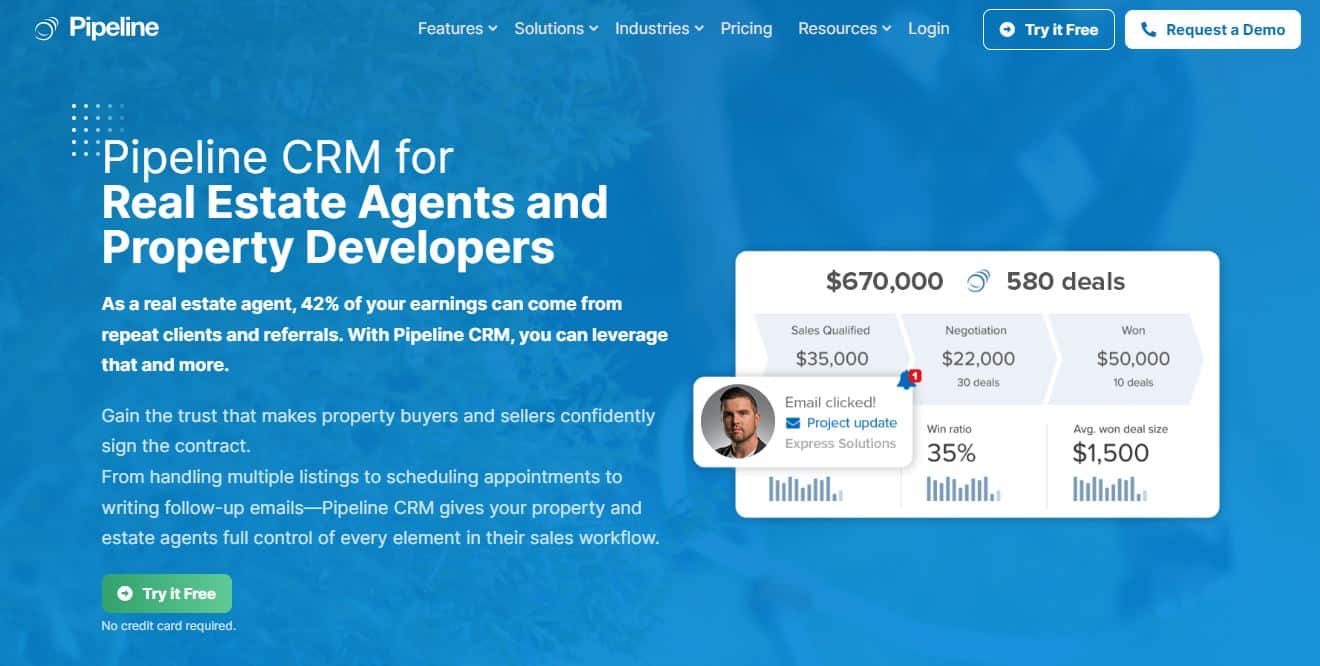 Thriving in the real estate industry requires a customer-centric approach and an efficient workflow. With Pipeline's CRM for real estate, you can lead your sales team to continual success with exceptional customer service. From handling multiple listings to creating persuasive marketing emails, this nifty CRM is all you need to build a profitable business. 
Features: 
Customizable CRM features to suit your agency's unique needs.

Open source APIS for seamless integrations.

Automate appointment scheduling, activity reminders,

email drip campaigns

, etc.

Able to deliver insightful reporting with powerful analytics. 

Accurate sales forecasting according to historical data. 

Mobile CRM application for remote teams on the go. 
Pros:
Easy to set up and can fully function within 48 hours.

Intuitive navigation for beginners and experts alike.

Best-in-class customer support.

Easy collaboration between internal and external teams.

Better convenience with mobile app.

Seamless automation for better prospect and listing management.

Offers personal training and guidance for better CRM implementation.

A clean and centralized dashboard fosters better visualization of contract progress.
Reviews:
Pricing:
Start plan: $25 per user per month.

Develop plan: $33 per user per month.

Grow plan: $49 per user per month.
2. Salesmate: Best CRM for Real Estate Marketing
Want versatile real estate sales tools with specially designed marketing automation? Salesmate is one of the best options for you. The tool is trusted by over 5,000 retail teams globally, this simple CRM software streamlines customer data, sends follow-up emails, schedules appointments, and sets up reminders. Users can connect multiple channels and sources to bring leads directly into the CRM. Pursuing the prospects is also easy with holistic lead management tools. 
Features: 
Centralizes all sales and communication channels. 

Smart email builder.

Offers built-in calling and text messaging.

Automates follow-ups, communication, marketing campaigns, and web forms.

Sales activity tracking, contact management, and product management.

Shared team inbox.
Pros:
Streamlines marketing operations by crafting high-yielding emails.

Analyzes customer data and generates.

Eases collaboration with the shared team inbox.

Simplifies progress tracking via comprehensive dashboards.
Cons:
Analytics reports are not easily comprehensible.

Takes longer to load than the alternatives.
Reviews
Pricing:
Starter: $12 per user per month

Growth: $24 per user per month

Boost: $40 per user per month

Enterprise: Custom
3. Wise Agents: Best CRM for Seamless Transactional Management
Next up on our list is Wise Agents, a cloud-based CRM for real estate and one of the more affordable options. From appointment scheduling to smart landing pages, this simple CRM software offers thorough efficiency and is easy on your pocket. 
Features: 
Customizable transaction management.

Multiple options to track and manage contacts.

Built-in referral tracking tools.

Mobile web application.

API integration.

Lead automation with split and A/B testing.
Pros:
A user-friendly interface makes it easy to update CRM as required.

The mobile app gives access to your contacts, vendors, appointment planner, call lists, and task lists.

Fits both individual requirements and unlimited members.

Fosters easy task delegation.
Cons:
The features are quite basic.

Poor customer service.
Reviews:
Pricing:
Monthly: $32 per user per month.

Annual: $326 per user per month.

Enterprise: Custom.
4.
Realvolve: Best CRM for Real Estate Teams
If you have multiple teams in your agency, choose Realvolve as your CRM software.
The tool is specially designed to fit diverse teams, this all-in-one real estate platform can manage listings, prospects, escrow correspondence, and listings simultaneously. 
Collaboration is easy, with simple steps to data import and export. 
Features: 
Tracks your year-to-date revenue, measures database quality, and predicts revenue.

Send, receive, and capture emails from multiple channels.

Track outstanding tasks, critical dates, and appointments.

Creates and organizes unlimited custom tags to segment contact lists, build groups, and find prospects.

Quick access to every prospect's history, including transactions and contracts — all on one page.

Keep tags on your most valuable lead sources.

Collaborate and delegate tasks to other members of your team.

Choose what information you share with colleagues.
Pros:
The interface is clean and allows you to automate vital information logs.

Powerful workflows to streamline and laminate repetitive tasks.

Categorizing tasks and prospect information is easy.

A wide range of integrations lets you sync contacts, calendars, and tasks with Google Apps and other popular platforms.
Cons:
Poor ticket response.

No option to talk to customer support reps on the phone.
Reviews:
Pricing:
Basic: $94 per month.

Accelerate: $99 per month.

Navigator: Custom.

Concierge: Application only.
5.
Boomtown: Best CRM for Flexible Industries
From efficient lead management to smart IDX websites, Boomtown takes care of it all. 
This CRM for real estate offers flexible packages to cover your everyday operational needs. On its clean dashboard, you can track every contract progress, prospect information, and team performance. Accurate analytics empowers you to monitor key metrics and resolve issues.
Features:
Mobile application.

Marketing automation and smart email campaigns.

Contact & account management.

Opportunity and pipeline management.

Activity tracker.

Listing and transaction management.

Precise forecasting and reporting with analytics.

Lead scoring and segmentation.
Pros:
Offers flexible packages to suit different requirements. 

The platform offers you a team of expert concierges to monitor your lead database. 

Lets you engage the prospect at the right time with the right message. 
Cons:
The contact import is faulty. 

Concierges aren't flexible with their communication with the clients. 

Navigation is difficult on the mobile app. 
Reviews:
Pricing:
6.
Propertybase: Best CRM for Real Estate Brokerage
Propertybase is an all-in-one CRM software that automates your repetitive tasks, manages listings, and turns prospects into loyal clients. Here, you can create automated campaigns for your social media sites and categorize clients without hassle. 
Features:
Precise analytics to gather data.

Extensive integrations.

Creates visually stunning websites.
Pros:
Simplifies marketing campaigns with end-to-end automation.

Offers real-time insights and accurate forecasting. 
Cons:
 Complex and

takes time to get used to.
Reviews:
Pricing:
Conclusion
From maintaining expansive property portfolios to accommodating different client needs, operating a real estate business is not plug-and-play. 
It requires you to provide personalized attention, have strong communication skills and a deep customer understanding, as well as maintain an efficient workflow. 
With the right CRM for real estate, you can eliminate the tedious parts of your operation and let your team focus on serving the client. With centralized records of high-volume contacts, every sales call will be personalized and close contracts quickly. 
With Pipeline, you can streamline marketing, sales, and customer service in one platform with the utmost efficiency. The clean dashboard gives you a comprehensive view of client information, sales progress, and forecasting. It also offers extensive integrations and fits seamlessly into your existing system. 
To enhance your services and credibility in the real estate field, sign up for your 14-day free trial!